Dental Instruments CNC Carbide Burs/Carbide Cutters
Model NO.:
OM-TCB007; OM-TCB008
Various Shape:
Round/Cylinder/Tapered Point/Inverted Cone/Torch
Various Shape 2:
Egg/Arc Point/Pear/Torpedo/Round End Taper
Package:
1PCS/Box,3PCS/Box,10PCS/Box
Transport Package:
1PCS/Pack, 3PCS/Pack, , 10PCS/Pack
CNC HP Carbide cutters
G/GX/HX/SÂ series
Packing you can choose :
10pcs/box
3pcs/box
1pc/box
OM-TCB007
CNC HP Carbide cutters
EX/FXÂ series
Packing you can choose :
10pcs/box
3pcs/box
1pc/box
OM-TCB008
sizes:


please contact me for catalog for CNC carbide burs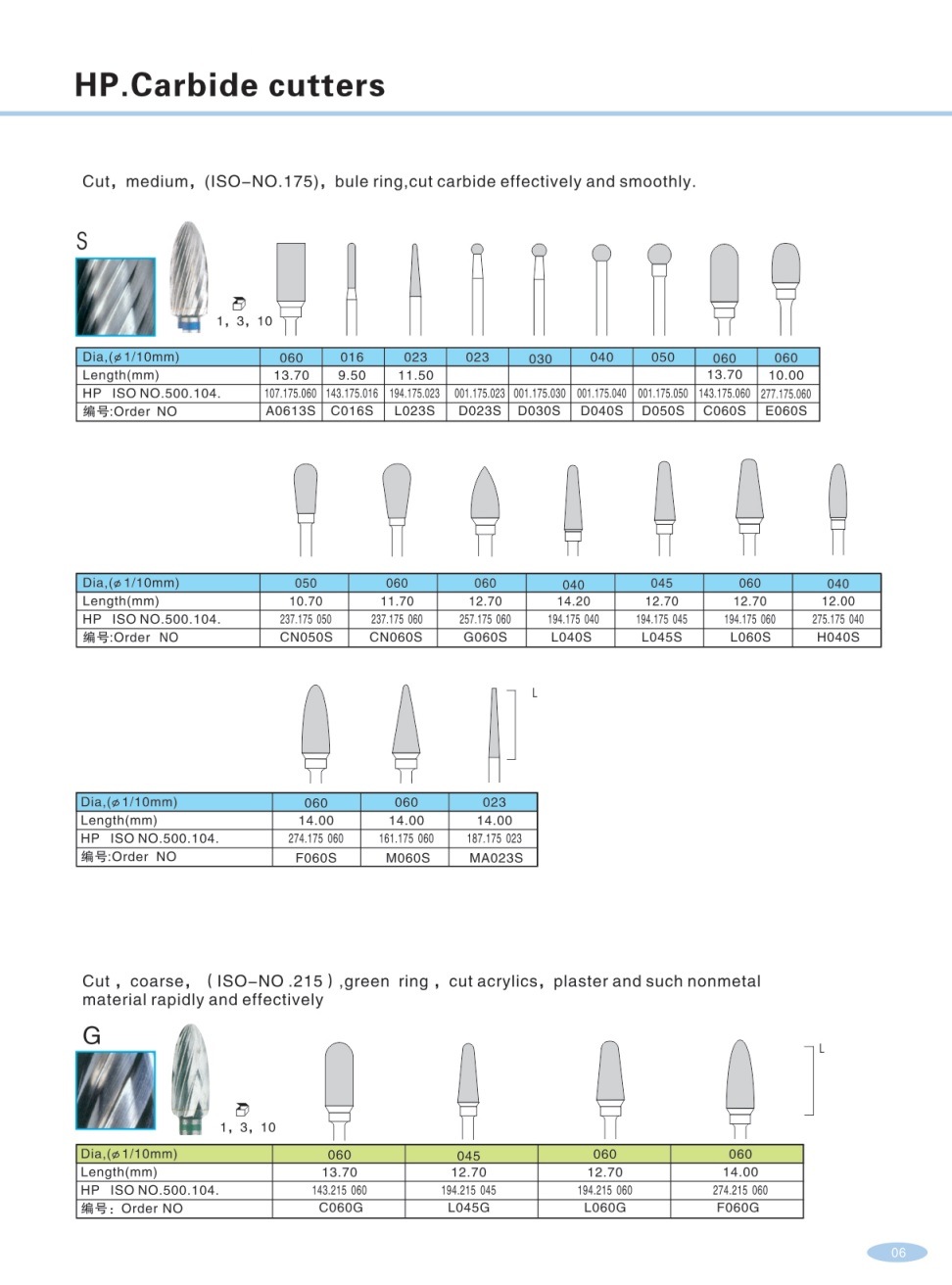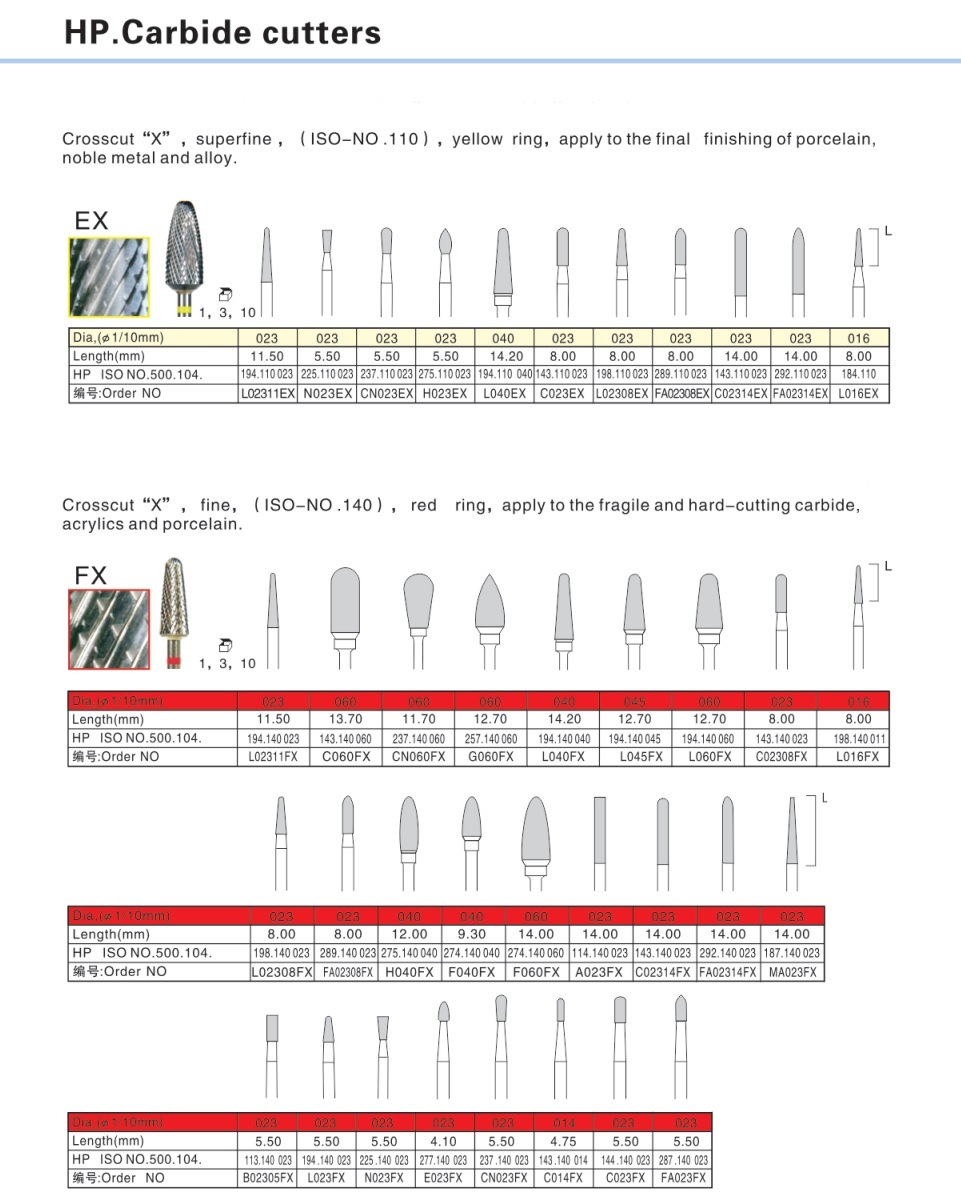 packages :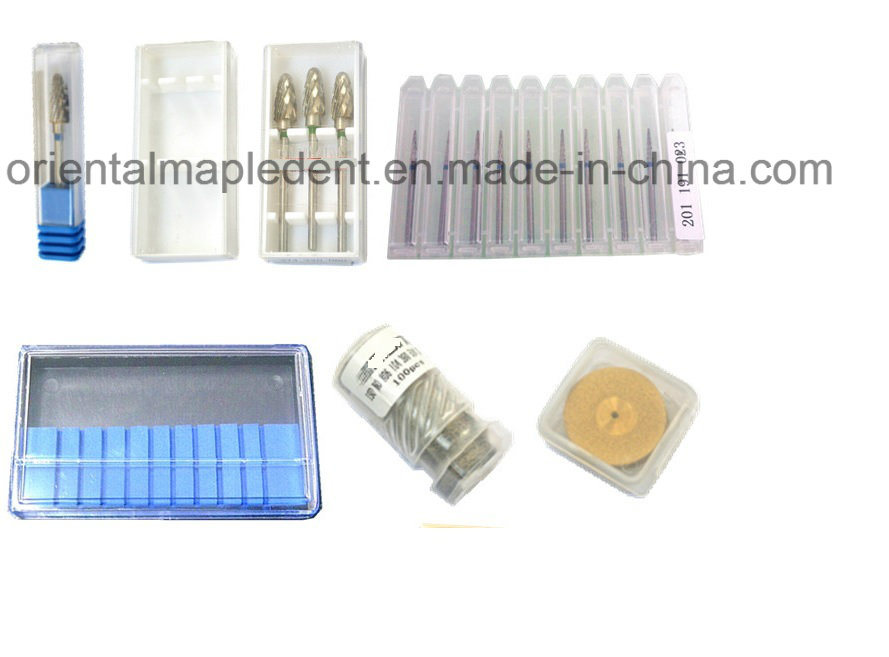 Oriental Mapledent Co. Ltd is specialized in the production, sales, research and development for the dental equipment &Â consumable materials. Including the dental units, dental handpices, dental files &Â diamond burs, led curing lights, portable dental units,x ray unit,air compressor,ultrasonic scalers, whitening machines, endoscope and other materials and so on.....
All the dental equipments we offer have passed the European market access of CE certification. Besides CE certification, we have obtained many other standard certification such as ISO, etc., which guarantees the quality of the dental equipments we provide.
We could offer OEM service with best after-sales service. And we also offer different famous brands: 3M,DENTSPLY,,KERR ,GC,SAESHINE,NSK,KAVO,W&H,SIRONA .....
Best Goji procuct is in China,China is the origen of Goji Berry.Goji is a traditional,typical food in China.The majority of commercially produced goji comes from Ningxia and Xinjiang in Northwestern China, where they are grown on plantations totaling 200,000 acres.[self-published source] In Zhongning County, Ningxia, wolfberry plantations typically range between 40 and 400 hectares (100–1000 acres or 500–6000 mu) in area. As of 2005, over 10 million mu have been planted with goji in Ningxia.

Ningxia goji has been cultivated along the fertile floodplains of the Yellow River for more than 700 years and have earned a reputation throughout Asia for premium quality sometimes described commercially as "red diamonds". Government releases of annual wolfberry production, premium fruit grades, and export are based on yields from Ningxia, the region recognized with-the largest annual harvest in China, accounting for 45% of the nation's total yield of wolfberries (50,000 tons, 2013);
formation of an industrial association of growers, processors, marketers, and scholars of wolfberry cultivation to promote the berry's commercial and export potential;[16]
the nation's only source of superior grade wolfberries used by practitioners of traditional Chinese medicine.

Dried Goji Berry,Ningxia Dried Goji Berry,Ningxia Dried Red Goji Berry,Ningxia Organic Dried Goji Berry
Ningxiahong Goji Industry Group Company Limited , http://www.ningxiahonggroup.com