Phentolamine Mesylate for Oral GMP Factory Regitine Dibasin Chemical Pharmaceutical
Model NO.:

tablets

Usage Mode:

Injection

State:

Liquid

Type:

Organic Chemicals

Use:

Injection

Useage:

Beta-Blockers

Transport Package:

Box

Origin:

China
Application:

Anilines

Suitable for:

Elderly, Adult

Shape:

AMP

Pharmaceutical Technology:

Chemical Synthesis

Dosage:

10mg

Trademark:

sunbiolab

Specification:

2ml: 10mg
WE CAN PROVIDE CDMO(OEM)Â 
Product Description
Product name
Dibasin
Specifications
40mg
Composition
Phentolamine mesylate 40mg
Package
10 tablets/pic*10/box
Storage
Keep out of reach of children
Store below 25oC Protect from light
Shlef lift
36 month
Routd
For Oral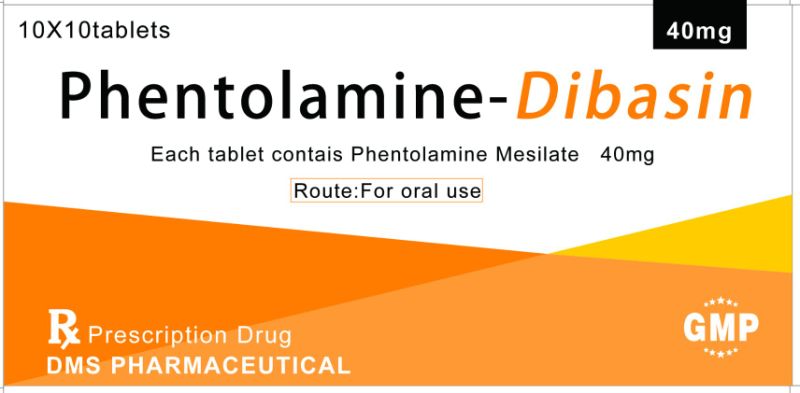 KEEP OUT OF REACH OF CHILDREN
WE CAN PROVIDE MAKE FORMEULATION (OEM)
 
Service we can provide:
1. Mixed container, we can mix different items in one container.
2. Quality control, before shipment, free sample for test. After shipment, keep sample for 3Â years
3. Prompt shipment with professional documents
4. Packing as your request, with photo before shipment.
 
Phentolamine Description
Phentolamine Mesylate for Injection, USP, is an antihypertensive, available in vials for intravenous and intramuscular administration. Each vial contains Phentolamine mesylate USP, 5Â mg and mannitol USP, 25 mg in sterile, lyophilized form.
Uses For phentolamine
Phentolamine given by injection causes blood vessels to expand, thereby increasing blood flow. When injected into the penis (intracavernosal), it increases blood flow to the penis, which results in an erection.
phentolamine should not be used as a sexual aid by men who do not have erectile dysfunction. If the medicine is not used properly, permanent damage to the penis and loss of the ability to have erections could result.
 
Slideshow
A Joint Effort: AÂ Provider's Guide To Orthopedic Pain Options
Phentolamine may also be used to reverse the effects of an anesthetic medicine in soft tissues, such as the lips and tongue. It may be used to help quickly restore normal sensation and function in patients who have received local dental anesthesia .
Phentolamine is available only with your doctor's prescription.
Once a medicine has been approved for marketing for a certain use, experience may show that it is also useful for other medical problems. Although this use is not included in product labeling, phentolamine is used in certain patients with the following medical conditions:
Low doses of a three-drug combination of phentolamine, papaverine, and alprostadil as an injection may be used to treat erectile dysfunction.
Standardized Herbal Extract

A standardized herbal extract is an herb extract that has one or more components present in a specific, guaranteed amount, usually expressed as a percentage. The intention behind the standardization of herbs is to guarantee that the consumer is getting a product in which the chemistry is consistent from batch to batch. This practice has developed out of the drug model of herbal medicine, in which modern scientists have attempted to identify the components of a plant that have definite pharmacological activity in the body. Unfortunately, while scientists can isolate many constituents from an herb and discover how particular chemicals may act in the body, they inadvertently remove or overlook components that may contribute to the activity of the whole herb. Consequently, standardization may concentrate one constituent at the expense of other potentially important ones, while changing the natural balance of the herb`s components.
Standardized Herbal Extract
Standardized Herbal Extract,Green Tea Extract,Black Currant Extract,Cranberry Extract, Green Coffee Bean Extract
Excellent Health Products Co.,Ltd , http://www.sino-excellent.com